The National Contact Point continues its activities related to the implementation of the Strategy 2020 and the Action Plan 2017-2020. On June 8th, 2018, in the State Geodetic Administration the 13th NSDI Workshop for NSDI subjects under the title "Implementation Status NSDI 2020 Strategy" was held. The workshop was attended by 40 participants, representatives of NSDI Subjects.
The primary topic of the workshop was the analysis of the activities that have been launched so far, as those arising directly from the Action Plan and those arising from the time frame for the implementation of the INSPIRE Directive.
The attendees were welcomed by the head of the NSDI sector Ljerka Marić, MSc, and the workshop was opened by the Director of the State Geodetic Administration dr. sc. Damir Šantek, PhD who emphasized the importance of NSDI, especially from the perspective of SGA as well as advantages for all stakeholders involved in its development.
At the introduction of the workshop Tanja Rodin, MSc, gave an overview of the current status of data and services from the perspective of this year's Monitoring of the Establishment, Maintenance and Development of the NSDI for the European Commission. The results which are presented point out the increased number of available online services.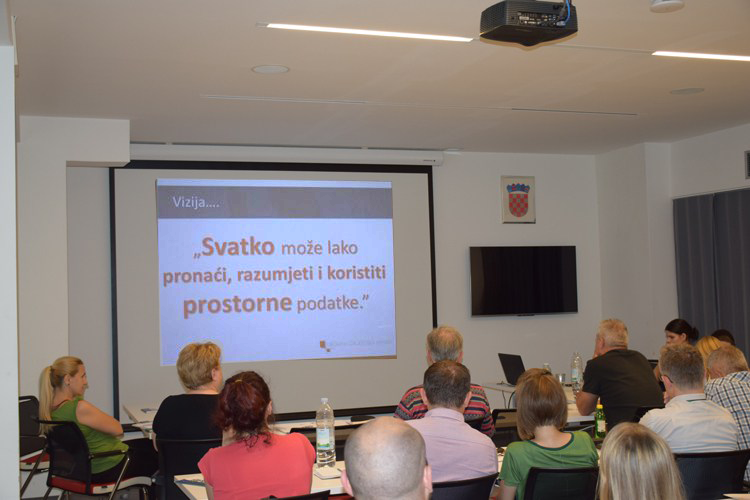 In the part of the workshop devoted to the Strategy, Tomislav Ciceli, MSc presented the current state of implementation of the Strategy and the results of the survey conducted among the NSDI subjects on the activities of the Action Plan. During the session, discussions were made about the various problems faced by the subjects, from the lack of capacity, both human and financial, to legislative problems that prevent the publication of certain sources. In addition to these problems, there was concern about the non-fulfilment of obligations in the timeframe.
In the second part of the workshop, Mrs Iva Gašparović presented projects that the State Geodetic Administration has submitted for funding from the European funds of ESF and ERDF. For the end of the workshop, a typical procurement related to data harmonization and the development of network services was shown on the example of the Gazetteer of Geographical Names that is part of Annex I.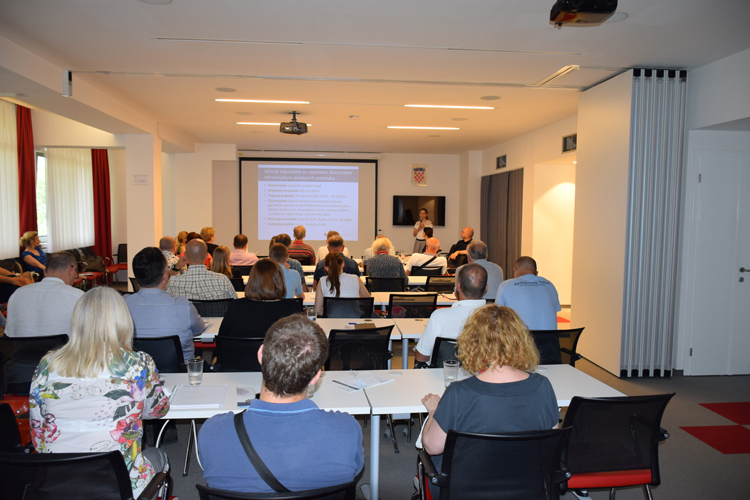 The State Geodetic Administration as a National Contact Point continues the activities related to the NSDI establishment and this workshop was on that track. The theme related to the implementation of the Strategy will certainly be repeated periodically and will watch out if the activities defined by the Strategy are implemented.
All presentations are available for download at the following
link
.