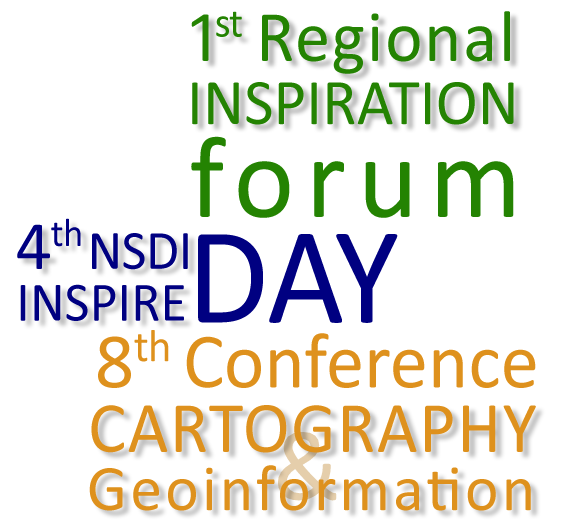 NIPP i INSPIRE dan i savjetovanje Kartografija i geoinformacije tradicionalno se održavaju svake godine. Do sada su NIPP i INSPIRE dani i savjetovanja Kartografija i geoinformacije održani tri puta: u Varaždinu (2009), Opatiji (2010) i Splitu (2011). Ove godine tim su skupovima pridruženi regionalni trening i forum INSPIRE-a u organizaciji EU projekta INSPIRATION. Dane infrastrukture prostornih podataka (Dani IPP-a) (eng. Spatial Data Infrastructure Days, SDI Days) organizirali su:

Dani IPP-a organizirani su u hotelu International u Zagrebu od 25. do 29. rujna 2012., a sadržavali su trening, konferencije i društvena događanja:

2. regionalni trening INSPIRE-a, 25.-26. rujna 2012.
1. regionalni forum INSPIRE-a i 4. NIPP i INSPIRE dan, 27. rujna 2012.
8. savjetovanje Kartografija i geoinformacije, 28. rujna 2012.
Stručni obilazak Hrvatskoga zagorja, 29. rujna 2012.
Dani IPP-a imali su nekoliko pokrovitelja, partnera, donatora i organizacija koji su im dali podršku. Generalni pokrovitelji bili su Ministarstvo graditeljstva i prostornoga uređenja Republike Hrvatske i Vijeće NIPP-a Vlade Republike Hrvatske. Ministar graditeljstva i prostornoga uređenja, gosp. Ivan Vrdoljak otvorio je Dane IPP-a, a podržale su ih ove organizacije: European Commission Joint Research Centre (JRC), International Cartographic Association (ICA), International Federation of Surveyors (FIG), EuroSDR i Akademija tehničkih znanosti Hrvatske. Partneri Dana IPP-a bili su: Association for Geospatial Information in the South-East Europe (AGISEE), Nacionalna i sveučilišna knjižnica u Zagrebu, Agencija za zaštitu okoliša i Gradski ured za strategijsko planiranje i razvoj Grada Zagreba. Donatori su bili Hrvatski geološki institut, Geomatika-Smolčak d.o.o., Igea d.o.o. i Turistička zajednica grada Zagreba.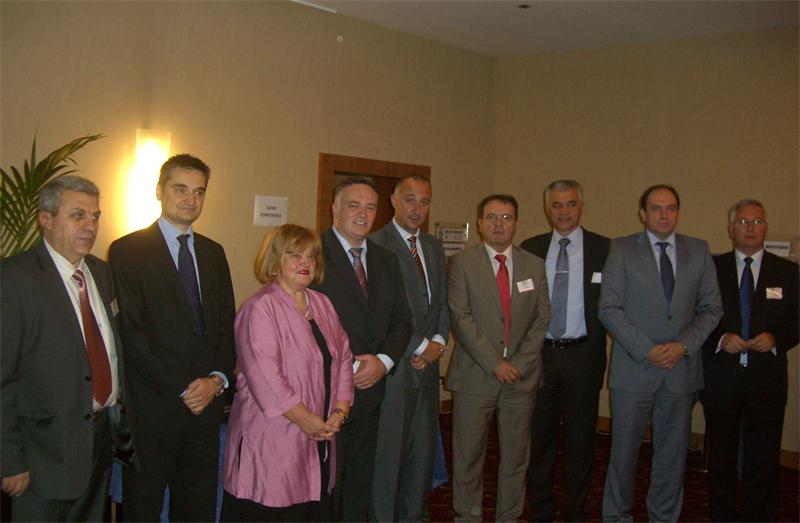 Gosp. Ivan Vrdoljak, ministar graditeljstva i prostornoga uređenja Republike Hrvatske, Anka Mrak Taritaš,predsjednica Vijeća NIPP-a Vlade Republike Hrvatske i predstavnici nacionalnih agencija za kartografiju i katastar

Dani IPP-a uključili su i ova događanja:
najavu natječaja Nadmetanje ideja projekta INSPIRATION
posjet izložbi Zagrebačka infrastruktura prostornih podataka u ZagrebForumu
posjet Zbirci karata i atlasa Nacionalne i sveučilišne knjižnice u Zagrebu
generalnu skupštinu AGISEE-ja.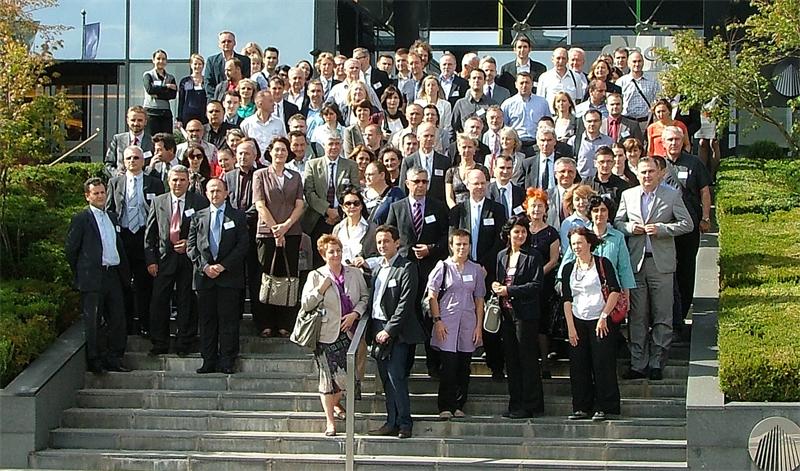 Učesnici Dana IPP-a

Glavne teme Dana infrastrukture prostornih podataka bile su: IPP, Nacionalna infrastruktura prostornih podatka (NIPP), INSPIRE, kartografija, geoinformacije, prostorni podatci i druge. Široki raspon tema i uvaženi predavači osigurali su zanimljiva predavanja. Pozvani predavači bili su:
Hugo de Groof, Directorate-General Environment, Chief Scientist, Research and Innovation Unit,
Rik Wouters, EULIS Managing Director,
Athina Trakas, Director of the OGC European Services,
Prof. Dr. Vlado Cetl, Sveučilište u Zagrebu, Geodetski fakultet, Scientific/Technical Project Officer at JRC,
Dr. Andreas Wytzisk, Project manager and INSPIRE Expert, con terra GmbH,
Prof. László Zentai, Eötvös Lorand University, Department of Cartography and Geoinformatics in Budapest, ICA Secretary-General and Treasurer,
Ulrich Boes, član Global Advisory Council of the Open Geospatial Consortium, AGISEE President,
Dr. Chryssy Alex. Potsiou, School of Rural & Surveying Engineering, National Technical University of Athens, FIG Vice-President,
Dr. Joep Crompvoets, Public Management Institute of KU Leuven (Belgium), Centre for Spatial Data Infrastructures and Land Administration of Melbourne University (Australia), EuroSDR Secretary-General,
Dr. Adam Iwaniak, Assist. Prof. at the Institute of Geodesy and Geoinformatics at the Wroclaw University of Environmental and Life Sciences, Member of the ICA Commission on Geoinformation Infrastructures and Standards.
Jezik na kojem su održani Dani IPP-a bio je engleski uz simultano prevođenje na hrvatski. Na Danima IPP-a sudjelovalo je dvjesto učesnika iz petnaest zemalja. Ukupno su prikazane 43 prezentacije na 1. regionalnom forumu INSPIRE-a i 4. NIPP i INSPIRE danu te na 8. savjetovanju Kartografija i geoinformacije. Prezentacije i više informacija o Danima IPP-a možete naći na web-adresi
http://nipp.kartografija.hr
.
4.NIPP i INSPIRE dan
i
1. regionalni INSPIRATION forum
27. rujna, 2012
Hotel International, Zagreb, Hrvatska – Sala: Grand

20.02.2013
8:00 - 9:00 REGISTRACIJA
Sesija 1
9:00 - 9:30 OTVARANJE, POZDRAVNA PORUKA
Muzički program – Winter, largo, Vivaldi
Fritz Kroiss, INSPIRATION - Spatial Data Infrastructure in the Western Balkans project
Miljenko Lapaine, Hrvatsko kartografsko društvo
Danko Markovinović, ravnatelj Državne geodetske uprave
Anka Mrak-Taritaš, Vijeće NIPP-a
Mihael Zmajlović, ministar zaštite okoliša i prirode
Ivan Vrdoljak, ministar graditeljstva i prostornog planiranja
Muzički program – Yellow, Coldplay
9:30 - 9:50 POZIVNE PREZENTACIJE
AUTORI I NASLOVI RADOVA
SAŽETCI
PREZENTACIJE
Hugo de Groof The INSPIRE Directive 2007/2/EC int he EU Environmental Acquis
Sažetak nije dostavljen
PDF
9:50 - 10:30 STANKA ZA KAVU
10:00 OBJAVA NADMETANJA IDEJA, INSPIRATION PROJECT
Sesija 2
10:30 - 12:30 POZIVNE PREZENTACIJE
AUTORI I NASLOVI RADOVA
SAŽETCI
PREZENTACIJE
Rik Wouters: EULIS a great step forward
PDF
PDF
Athina Trakas: OGC: Open Standards, Programs and Processes
PDF
PDF
Vlado Cetl, Katalin Tóth, Paul Smits: INSPIRE from the JRC point of view
PDF
PDF
Andreas Wytzisk: Implementing SDI – Status quo, lessons learned & the road ahead
PDF
PDF
12:30 - 13:30 STANKA ZA RUČAK
Sesija 3
13:30 - 15:20
PREZENTACIJE NA TEMU VIZIJE RAZVOJA REGIONALNOG IPP-a
AUTORI I NASLOVI RADOVA
SAŽETCI
PREZENTACIJE
Besnik Como, Immovable Property Central Registration Office of the Republic of Albania
PDF
PDF
Nedžad Pašalić, Federal Administration for Geodetic and Real Property Affairs, Bosnia and Herzegovina
PDF
PDF
Dragan Macanović, Republic Authority for Geodetic and Property Affairs of the Republic of Srpska, Bosnia and Herzegovina
PDF
Prezentacija nije održana
Tomislav Ciceli, State Geodetic Administration of the Republic of Croatia
PDF
PDF
Avni Ahmeti, Kosovo Cadastral Agency
PDF
PDF
Sonja Dimova, Agency for the Real Estate Cadastre of the Republic of Macedonia
PDF
PDF
Božidar Pavičević, Real Estate Directorate of Montenegro
PDF
PDF
Dragica Pajić, Republic Geodetic Authority of the Republic of Serbia
PDF
PDF
PREZENTACIJE NA TEMU IPP-a
AUTORI I NASLOVI RADOVI
SAŽETCI
PREZENTACIJE
Marijo Vranaričić: Implementation of INSPIRE directive in CEA
PDF
PDF
Anders Östman, Gligor Ralev: Self financing mapping and cadastral agencies, data services and INSPIRE – Is there a conflict?
PDF
PDF
15:20 - 16:00 STANKA ZA KAVU
Sesija 4
16:00 - 17:30 PREZENTACIJE NA TEMU IPP-a
AUTORI I NASLOVI RADOVI
SAŽETCI
PREZENTACIJE
Darko Šiško, Jadranka Veselić Bruvo, Ana Stručić, Sanja Batić, Vlado Cetl: ZG Geoportal in use
PDF
PDF
Zvonko Gržetić, Bruna Vidović, Mladen Srdelić: Supporting marine dimension in Croatian NSDI - marine cadastre and marine SDI concepts
PDF
PDF
Vlatko Roland, Dragan Divjak: The role of civil society organizations in SDI development
PDF
PDF
Vojkan Gavrilović, Petar Šunjić: Geographic Information System of the City of Split
PDF
PDF
Irena Mitton, Dragan Divjak: ETL tools as support for the harmonization of spatial data according to INSPIRE
PDF
PDF
Dragan Divjak, Irena Mitton: Development of INSPIRE Data Specifications
PDF
PDF
17:30 ZAVRŠETAK KONFERENCIJE
DRUŠTVENI DOGAĐAJ 19:30 - 22:00 Posjet izložbi "ZAGREBAČKA INFRASTRUKTURA PROSTORNIH PODATAKA", ZagrebForum